We are open again as of May 6, 2020! COVID measures still apply; read more to learn about COVID-19 and Silver Willow's operations.
- welcome -
Silver Willow Sporting Club
Canada's Premier Shotgun Sports Facility
Our mission is to create a unique outdoor shotgun shooting experience for members, families, guests, and private events within a safe, exciting, social setting.
Play the video to find out more about Silver Willow
Family owned and operated
– since 1988 –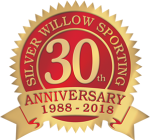 Serving the shotgun shooting community for 32 years
Competitive Shoots
Silver Willow annually hosts a number of competitive, registered shoots in cooperation with CNSCA and the NSCA.
In addition to competitive registered shoots, we also offer competitive fun shoots, like the Two-Man Team shoot, one of the best loved events of the year.
View our Shoot Calendar

Rural Address: 30133 RR 20, Mountain View County
Mailing Address: Box 974, Carstairs, AB T0M 0N0
Winter Hours Nov 1 – Mar 31
Thursday – Sunday
9:00 am – 5:00 pm
Open Saturdays and Sundays only for the month of January.
Closed January 4-5, 2020.
Summer Hours Apr 1 – Oct 31
Wednesday – Thursday
9:00 am – 8:00 pm (ceasefire at 7:55pm)
Friday, Saturday and Sunday
9:00 am – 5:00 pm (ceasefire at 4:55pm)